Journey of creating the perfect full vinyl wrap
Starting from design to installment, many steps are included to create the perfect full vinyl wrap for your business needs.
From personalization to brand awareness, there are many reasons to get your vehicle wrapped. At Vinyl Wrap Toronto, we know how important it is for your brand to look spotless on your vehicle, that's why we do all the steps of wrapping your car with utmost dedication and hours of hard work.  
But what exactly are those steps? Why does it take much longer than you expect to wrap your car? Spoilers: wrapping a car needs much more work than getting a couple of stickers.
From designing to installing wraps, here are the steps to create the perfect look for your business. 
Designing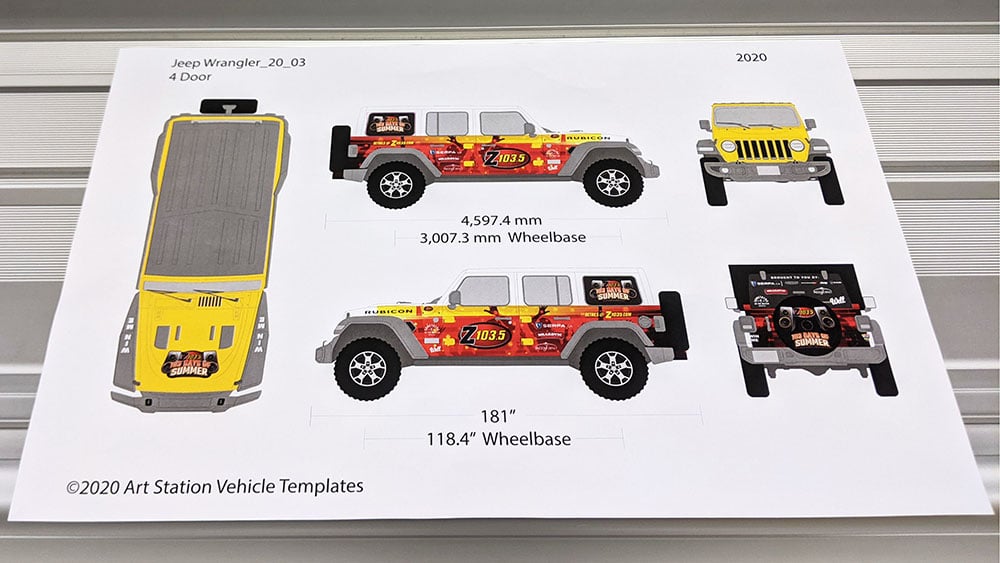 Whether you have a design ready, just have an overall look in mind, or can't decide what the perfect look for your brand is, we're here to help your business thrive. At Vinyl Wrap Toronto we can do a design for your vehicle from scratch or work on your existing design. With existing designs, we modify them to fit your vehicle perfectly. 
At Vinyl Wrap Toronto, the magic starts with mock-ups. Mock-ups of what the car is going to look like are done to show both our wrap installer and you how the car's going to look with the vinyl on. It's also a vital step to finalize the wrap design and make adjustments.
Printing & Cutting 
After the design is finalized it's time for the next step: printing the wrap. Our designs are saved as a specific file format for our printers to be able to print in high quality as the images need to be very big to look good on large surfaces like car hoods.  
After printing decals are cut with a special machine for easy removal. After the machine cuts our designers still need to go over the decals and wraps by hand as machine cutting isn't always perfect and negative space needs to be removed from the decal paper manually. 
Getting the Vehicle Ready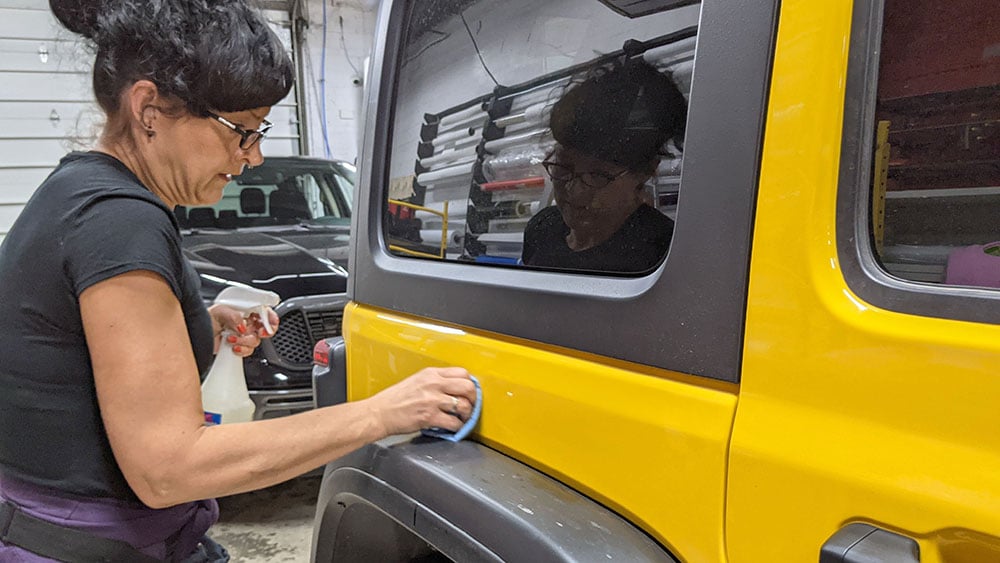 To install a long-lasting full vinyl wrap we need to properly prepare your car first. Firstly, if your car has any old wrap, it's removed by hand and the residue is cleaned up by a glue remover solution. 
After that, our installer cleans the car with vinegar and an alcohol solution applied to a micro-fiber cloth. This step is important to remove any residue, dirt, and dust from the car so that the wrap can be applied without any imperfections and the adhesive holds on for longer. 
All the nooks and crannies are cleaned with a cloth as wraps need to be applied to the curved metal of the car frame to look seamless. 
Installation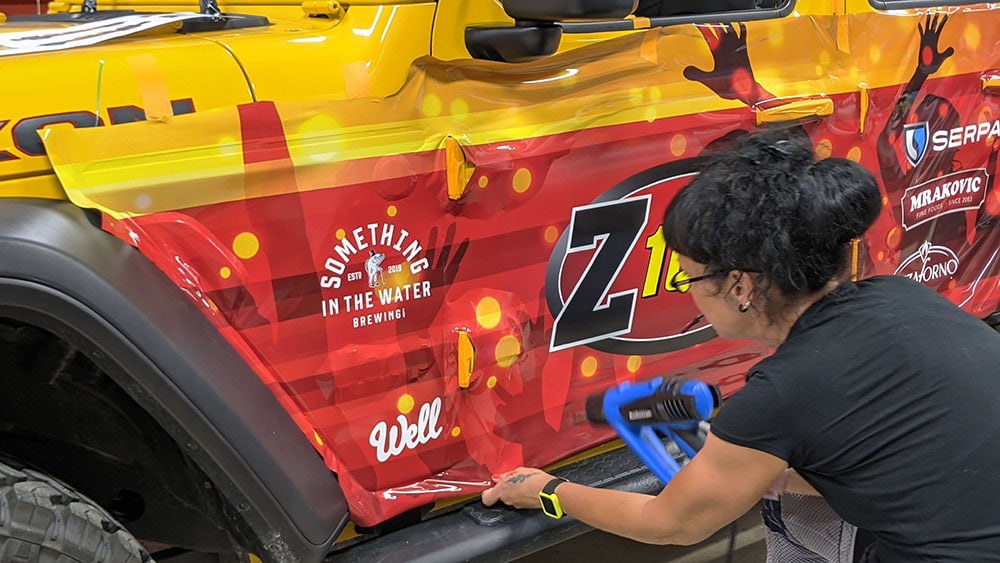 The wrap, decals and the car is ready. Now it's time for our wonderful installer Anita to work her magic. She starts by laying down the wrap with masking tape to figure out which parts need trimming and adjusting before applying the adhesive to the car. Handles and other surfaces of the car like the logo and the fuel door that need to be exposed through the wrap are manually cut with a box knife. This process needs extreme precision and attention and can take up a lot of time. 
Our designer's mock-up is a manual for her at this point. After deciding the placement of the wraps, she starts by applying the adhesive with a microfiber cloth, a card to apply pressure, and some vinegar solution so that the wrap doesn't get scratches. A heat gun is also necessary to soften the wrap and adhesive so it's easier to bend into shape. 
The bigger the wrap the longer time spent installing it. If you have a full vinyl wrap that means more time spent to install the adhesive perfectly without any air bubbles or creases. Car surfaces are not completely straight which means our installer needs to do a lot of fine adjustments to install the wrap, which is not printed on a stretchy material for durability. 
Finished Wrap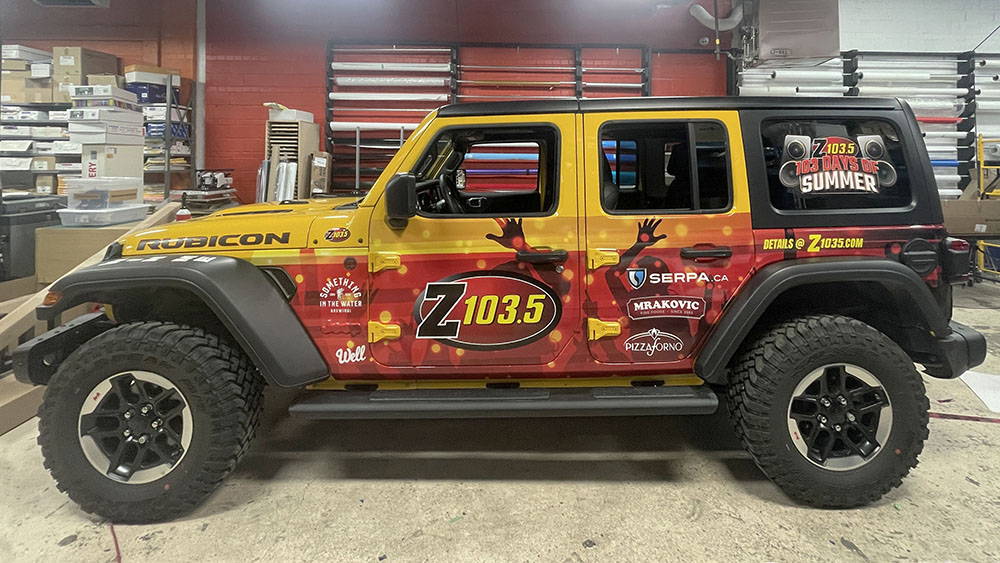 After the full vinyl wrap and decals are installed the car goes through one more cleaning to ensure that you get your brand new vehicle spotless. During this step, our installer also fixes any minor imperfections. 
Vinyl Wrap Toronto specializes in transforming your vehicles and making them one of a kind. You can check our vehicle portfolio. For any other branding needs, check out our Branding Centres portfolio. 
To get your vehicle wrap, feel free to reach out to us at 416-822-3232 or visit our garage located at 24 Ronson Dr, Unit 1, Etobicoke, ON, M9W1B4.