Chevy Silverado Pickup trucks – Decals for the win!
No matter what industry you are in, decals make a powerful marketing and branding tool for all businesses. Using personalized branded decals on your vehicle can help you stand out amongst the competitors especially during these unprecedented COVID-19 times. Decals are ideal to let people know that your business is OPEN and OPERATIONAL.
Advertising your brand, the right way can really make a difference! Turn your vehicles into moving billboards.
Recently, an Ontario construction company named 'Ontario Excavation & Underpinning' came to Vinyl Wrap Toronto to get decals on their Chevy Silverado Pickup Truck. They knew exactly what they wanted:
Their logo on the pickup truck so that people can recognize the brand.
The company's name, services, and contact details on the tailgate.
They shared their vision with us at Vinyl Wrap Toronto, and we turned it into a reality. Commercial wraps can prove to be beneficial for your business and drive visibility for your brand. Be it an important corporate meeting, a networking event, or just a drive out on the streets, you will be gathering exposure to your company with your vehicle.
Here are 5 benefits that will make you reconsider using vehicle decals as your primary advertising approach today:
You invest one-time – Unlike other digital ads, you pay a fixed price until it needs to be replaced.
Mobile Marketing – Vehicle advertising is not restricted to one place. They can travel any and everywhere. The branded cars will advertise the business wherever it goes.
Long Display Life – Decals can survive for a long time and can resist weather conditions like humidity and moisture.
Caters to a different kind of audience – The branded car is visible to everyone and not restricted to selective people.
Personalized Decals – Vehicles can be customized as per the business persona and preferences.
Did you know? 98% of Americans indicated they notice media targeting vehicle drivers and passengers.
Whenever we get a job, our mission is to serve our clients with premium quality material and products. For Ontario Excavation & Underpinning's Chevy Silverado we used Avery Dennison's vinyl for the decals and lettering. What looks easy from the outside is not a simple job but with our team of experts and years of experience, we can make anything happen at Vinyl Wrap Toronto!
We follow a structured process. Here is what we did with the Chevy Silverado pickup truck for Ontario Excavation & Underpinning.
The truck was brought to the shop and we cleaned the vehicle with vinegar to remove dust. Following that our designers created a mock-up and once it was approved by the client, we move to the next step which is printing, laminating, and finally Installing. As per the client's idea, the decals were installed on both sides of the truck along with services at the tailgate. We have attached the pictures of Chevy Silverado RST 2021 for your reference.

Small details create a bigger picture! If you will closely see the tailgate; we divided services with a shovel that resonates with what the company does.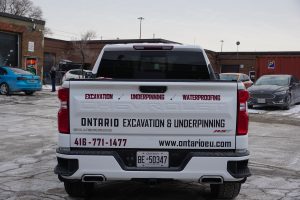 Decals and wraps can instantly transform your vehicle giving it a professional image. And now it is your time to take your advertising a level up with Vinyl Wrap Toronto.
Call our experienced team to speak with a representative about your company vehicle wrap project. All our graphics and decals are printed using premium print materials and installed by our own professional and experienced installation team.
To speak to one of our experts call us at 4168223232 or visit our garage located at 24 Ronson Dr, Unit 1, Etobicoke, ON, M9W1B4. Check out our website for more.
You may also want to read:
FORD TRANSIT 2018 – COMMERCIAL DECALS AND LETTERING
FORD TRANSIT CONNECT COMMERCIAL VAN DECALS