Welcome to the world of Branding Centres, where creativity meets technical precision. With over a decade of experience in the vehicle wrapping industry, we offer extensive services, ranging from full and partial vehicle wraps to lettering, decals, and equipment wraps. Today, we delve into one of our recent masterpieces, the full box truck wrap for Downtown Bath and Tile.
The importance of vehicle wraps for businesses can never be overstated. In an age where brand visibility plays a pivotal role in success, vehicle wraps offer a cost-effective and impactful solution. They transform ordinary commercial vehicles into mobile billboards, creating countless daily impressions.
Client Profile: Downtown Bath and Tile
Downtown Bath and Tile is a leader in providing high-quality bathroom fixtures and tiles. Their commitment to quality and aesthetic appeal is second to none. In line with their business ethos, they decided to invest in a full box truck wrap to enhance their brand visibility. Their expectation was clear – they wanted a wrap that was visually stunning and aligned with their brand's reputation for excellence.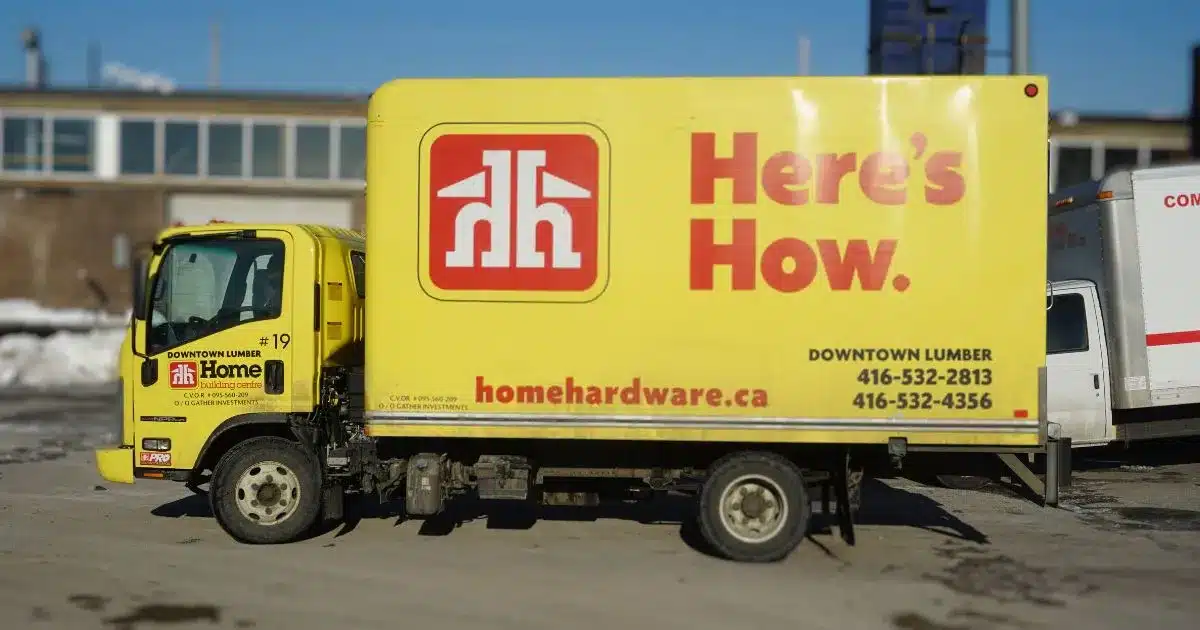 Understanding Full Wrap: What it Entails
A full vehicle wrap is an extensive process that involves completely covering a vehicle's exterior with a high-quality vinyl wrap. It is an art that requires skill, precision, and attention to detail, and when done right, it can produce captivating results that turn heads and boost brand visibility. So, let's delve deeper into what full vehicle wrap entails and why it's a fantastic choice for businesses.
A full vehicle wrap starts with the selection of a design. This design is usually created by a team of graphic artists who work closely with the client to ensure that the final product accurately represents the client's brand and vision. The design is then printed onto large sheets of high-quality vinyl.
Next comes the application of the wrap. The vehicle is thoroughly cleaned to ensure that the wrap adheres correctly. The vinyl wrap is then applied carefully to the vehicle. This part of the process requires immense precision as the wrap must be smoothed out to avoid any creases or bubbles that can detract from the final appearance. The wrap is then heated to ensure that it adheres tightly to the vehicle.
There are several benefits to choosing a full vehicle wrap for businesses. Firstly, a full wrap provides extensive brand exposure. As your vehicle travels around, more people see your brand, leading to increased brand awareness. Secondly, a vehicle wrap protects the vehicle's original paintwork from scratches, fading, and weather damage, preserving the vehicle's value. Lastly, wraps can be updated or removed, allowing businesses to change their advertising message when needed.
Box trucks are especially popular for full-vehicle wraps due to their design. They offer large, flat surfaces that act as the perfect canvas for a vehicle wrap. The size of a box truck allows for prominent, eye-catching designs that can be seen from a distance, making them an excellent choice for businesses looking to maximize their visibility.
The Design Process
The design process is a pivotal stage in the vehicle wrapping journey. It's where we translate a client's vision into a tangible, impactful visual representation. For the Downtown Bath and Tile full box truck wrap, the design process carefully orchestrated aesthetics and brand message synchronization.
To begin, let's discuss the design elements chosen for this wrap. After an in-depth consultation with the client and a thorough understanding of their brand, we settled on a dark gray base for the wrap. This colour choice was not merely coincidental. Dark gray exudes a sense of elegance, sophistication, and stability – qualities that align perfectly with Downtown Bath and Tile's brand identity. Its colour stands out without being too loud or overpowering, making it a perfect backdrop for the rest of the design elements.
The second critical design element was the text – the vehicle of communication in this wrap. We used white text on the dark gray base. White, symbolizing purity, cleanliness, and precision, is synonymous with the industry in which Downtown Bath and Tile operate. Moreover, white on dark gray creates a high contrast, ensuring the text is clearly legible even from a distance, maximizing the wrap's reach and impact.
But how did we decide on the text's font, size, and placement? Every decision was intentional and strategic. We chose a modern and easily readable font, mirroring the client's approach to their business – contemporary yet user-friendly. The size and placement of the text were decided based on visibility studies to ensure the message was unmissable, regardless of the viewing angle.
We incorporated the client's logo into the design, further reinforcing their brand identity. The entire design was then digitized, creating a virtual mock-up that allowed the client to visualize the final product before moving to the actual wrapping phase.
Material Selection: Avery Dennison with Gloss Lamination
Choosing the right material for a vehicle wrap is crucial to achieving a visually appealing result and ensuring long-term durability and performance. For the Downtown Bath and Tile full box truck wrap project, Avery Dennison with Gloss Lamination was our material of choice. Why? Let's delve deeper into the reasoning behind this decision.
Avery Dennison is a globally renowned brand in the industry of adhesive technologies. When it comes to vehicle wraps, Avery Dennison vinyl is favoured for its premium quality, exceptional durability, and versatile design possibilities. Its material allows for vibrant colour representation and high-definition print quality, ensuring that the wrap design pops out and grabs attention.
The addition of Gloss Lamination takes the benefits of Avery Dennison vinyl to another level. The lamination layer offers extra protection against the elements, UV rays, scratches, and fading. It also adds a glossy sheen that elevates the aesthetics of the wrap, giving it a polished and professional look that resonates with Downtown Bath and Tile's brand image. This combination of aesthetics and durability made Avery Dennison with Gloss Lamination the perfect choice for this project.
Tips for Choosing the Right Material for a Full Box Truck Wrap
Selecting the right material for a full box truck wrap is vital as it directly influences its durability, aesthetics, and maintenance requirements. Here are a few tips to guide you through this selection process:
Understand Your Requirements: Consider the vehicle's intended use, the weather conditions it will be exposed to, and how long you want the wrap to last. These factors will determine the type of material and the level of durability required.
Research Different Brands: Different brands offer different types of vinyl wraps, each with unique properties. Research and compare different brands to understand which one would best suit your needs. Brands like Avery Dennison and 3M are well-known for their premium quality and durability.
Consider the Finish: Vinyl wraps come in various finishes, such as gloss, matte, satin, and more. The finish can greatly influence the overall look of the wrap. Consider what type of finish would best complement your design and brand image.
Seek Professional Advice: Consult with a professional vehicle wrap company when in doubt. They can provide you with valuable advice based on their experience and expertise, helping you make an informed decision.
Remember, the right material can make all the difference in ensuring your wrap looks fantastic, lasts a long time, and provides a good return on your investment. So take your time, do your research, and choose wisely.
Execution: The Wrapping Process
The wrapping process began with meticulously cleaning the truck's exterior to ensure optimal adhesion. Once prepared, the dark gray wrap was applied, covering every inch of the truck's body, followed by the precise placement of the white text. The project wasn't without its challenges, but our experienced team managed to deliver excellent results within the 4-5 day timeline.
Results and Client Feedback
The transformation was nothing short of stunning. The once plain box truck was now a striking mobile advertisement for Downtown Bath and Tile. The client was thrilled with the result, lauding our team's workmanship and professionalism. Since the wrap's installation, they've reported an uptick in inquiries and brand recognition, attesting to the effectiveness of the wrap.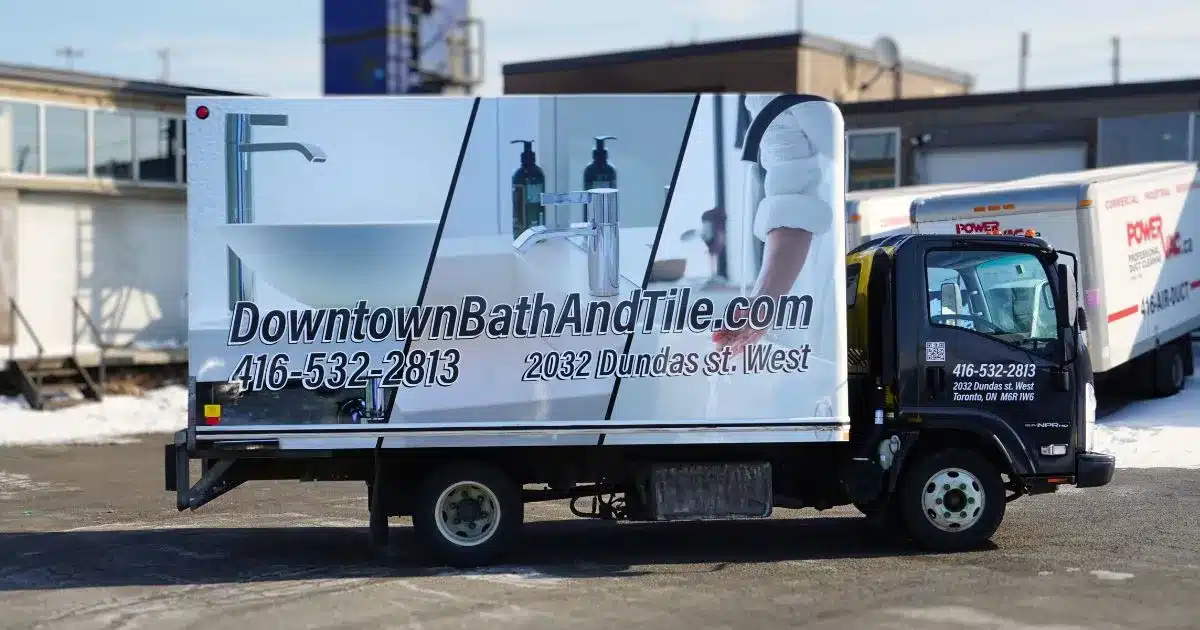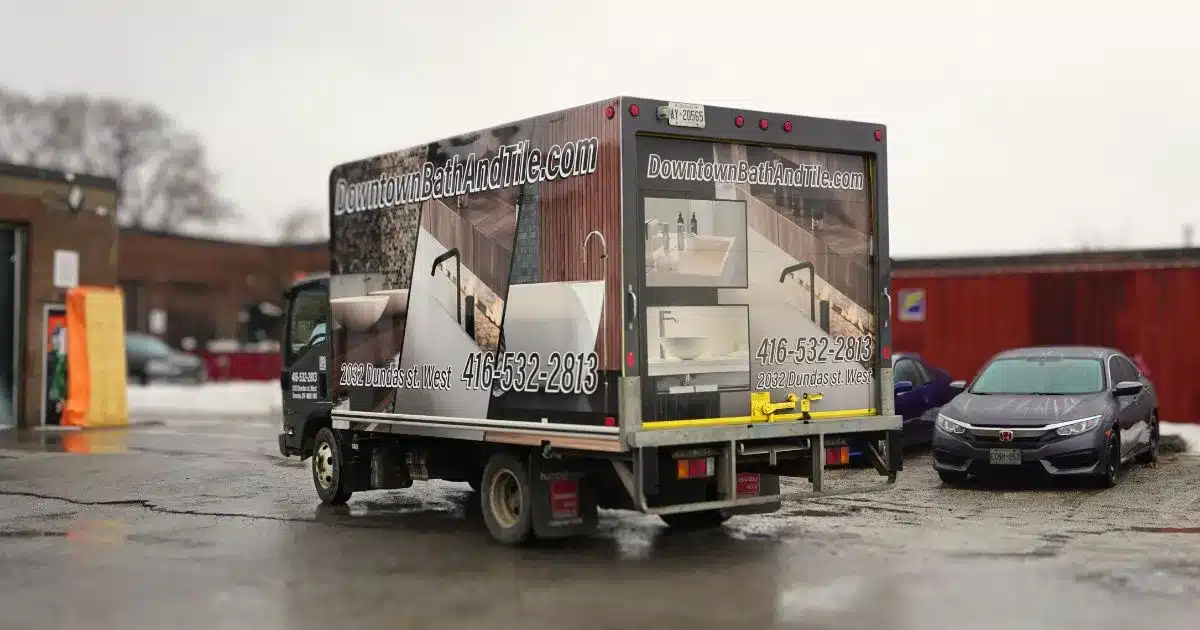 The Power of Vehicle Wraps
This project underlines Branding Centres' dedication to delivering top-quality vehicle wraps that resonate with our client's brand identity. Vehicle wraps are more than just an advertising tool; they're a powerful statement of a company's presence in the marketplace.
For businesses, large or small, vehicle wraps offer an opportunity to showcase their brand in a mobile, innovative, and eye-catching way. They're an investment in your brand, a commitment to professionalism, and a testament to your quality.
Want to make a bold statement with your commercial vehicle? Get in touch with Branding Centres. Let us transform your vehicle into a stunning representation of your brand. For more information or to get a quote, feel free to contact us. Let's create extraordinary together!
Get in touch: