Welcome to the Branding Centres blog, where we document our latest branding and marketing projects. We're excited to share the story of our recent collaboration with Vivid Electric, a licensed electrical contracting company in Toronto. As a branding and marketing company in Toronto, we've had the pleasure of working with Vivid Electric in the past on various projects, including vehicle wraps and custom-branded apparel.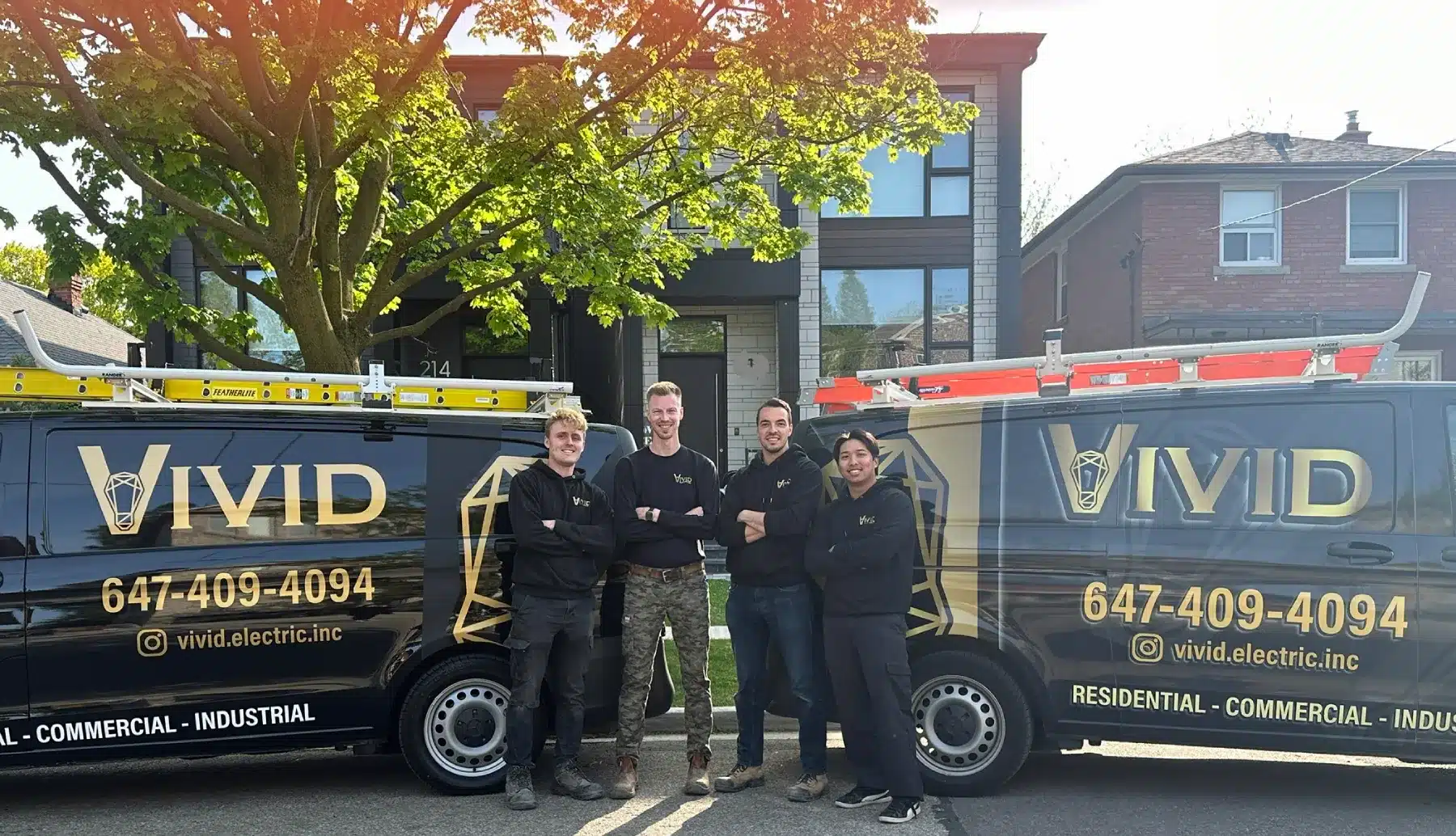 This time, Vivid Electric approached us with the request to install commercial decals on their Mercedes Metris. We were thrilled to take on the challenge and provide our expertise in enhancing their branding efforts. The purpose of this blog is to document the installation process of these custom decals and showcase the final look of the vehicle.
At Branding Centres, we understand the importance of effective branding and marketing. Our goal is to help businesses like Vivid Electric stand out and make a lasting impression on their audience. Through this blog, we hope to demonstrate the power of professional branding and the impact it can have on a business's success. So, let's dive into the details of this project and show you what we were able to achieve for Vivid Electric.
Overview of the Wrap Project
We are thrilled to once again collaborate with our returning client, Vivid Electric, on another exciting branding project. Over the years, we have established a strong relationship with Vivid Electric, having previously provided them with exceptional services such as vehicle wraps and custom-branded apparel. This longstanding partnership is a testament to the trust and satisfaction Vivid Electric has in our work.
For this particular project, our focus was on installing commercial decals on Vivid Electric's Mercedes Metris. We aimed to elevate their brand identity and ensure their message was communicated effectively through the vehicle's exterior. To achieve this, we carefully selected Avery Dennison's Gold and Matte Black vinyl for the decals. Avery Dennison is renowned for its high-quality materials, and we wanted nothing but the best for our clients.
The combination of Gold and Matte Black vinyl provided a striking and sophisticated appearance that perfectly aligned with Vivid Electric's brand image. These materials not only offer durability and longevity but also showcase a level of professionalism that Vivid Electric wanted to convey to their target audience.
By incorporating Avery Dennison's Gold and Matte Black vinyl into the decals, we were confident that the final result would capture attention, enhance brand recognition, and leave a lasting impression on anyone who encountered the Mercedes Metris. Stay with us as we delve into the installation process and unveil the captivating outcome of this project.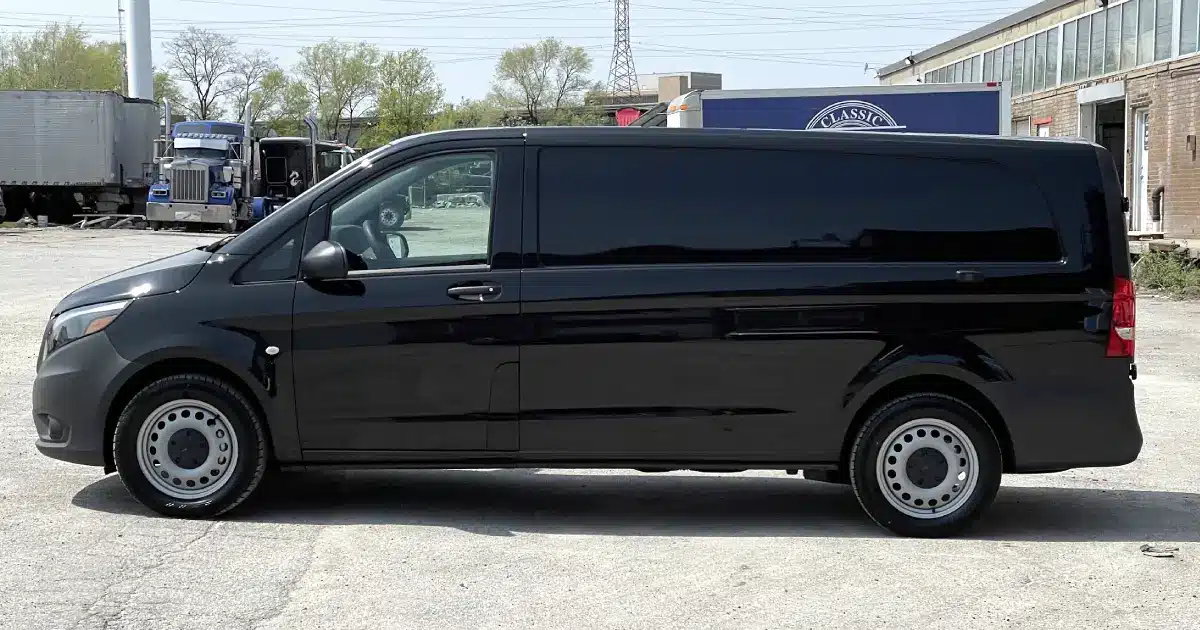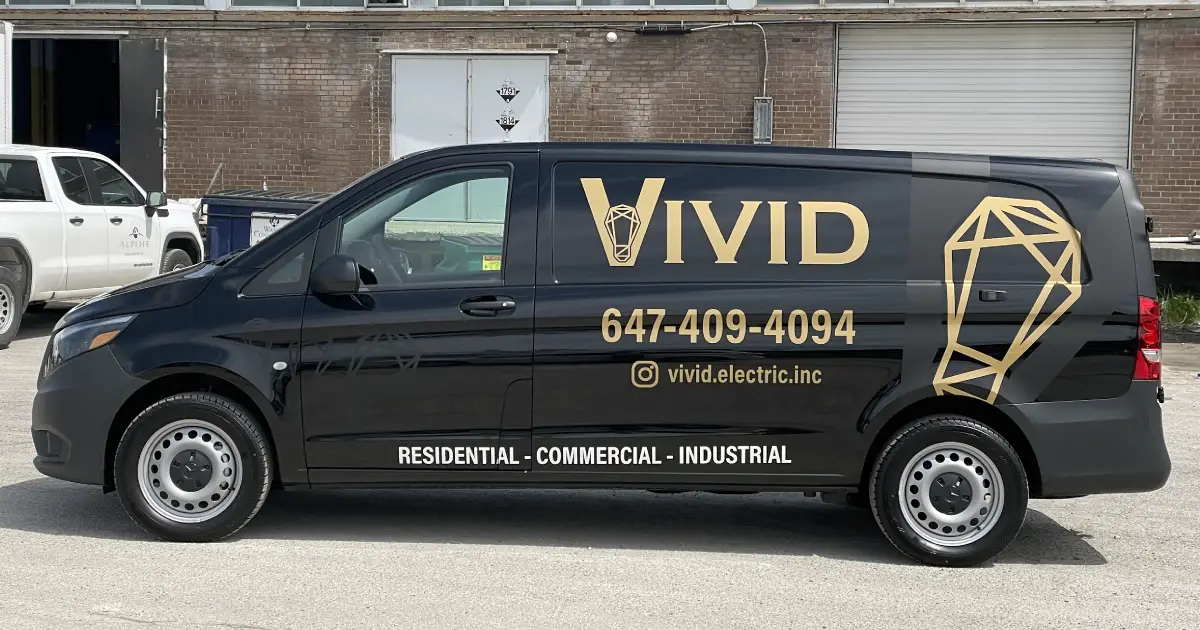 Preparing for the Installation
Proper planning and preparation are key factors in ensuring a successful installation. We understand the importance of taking the time to outline project requirements and specifications before diving into the actual installation process. With Vivid Electric's Mercedes Metris project, we followed a meticulous approach to ensure every detail was considered.
Outlining project requirements and specifications: We began by thoroughly understanding Vivid Electric's vision and goals for the commercial decals on their Mercedes Metris. By having a clear understanding of their brand identity and target audience, we were able to tailor the design and placement of the decals accordingly. We discussed important factors such as the number of decals, their positioning on the vehicle, and the specific information to be included.
Collaborating with the client to finalize design elements: Collaboration with the client is vital to create a design that truly represents their brand. We worked closely with Vivid Electric to finalize the design elements, ensuring that their logo, services, Instagram username, and contact information were prominently displayed on the decals. Through open communication and feedback, we were able to refine the design to meet their expectations and align it with their branding strategy.
Another crucial aspect of our preparation was the selection of high-quality materials. We believe in providing our clients with the best possible solutions, which is why we chose Avery Dennison vinyl for this project.
Using high-quality materials like Avery Dennison vinyl offers several advantages. Firstly, it ensures the longevity and durability of the decals, allowing them to withstand various weather conditions, UV exposure, and normal wear and tear. This is especially important for a vehicle like the Mercedes Metris, which is frequently on the move.
Moreover, Avery Dennison vinyl provides a superior finish and appearance. The Gold and Matte Black vinyl offered by Avery Dennison added a touch of elegance and professionalism to Vivid Electric's decals. The colours are vibrant, and the vinyl has a smooth, high-quality finish that enhances the overall aesthetic of the vehicle.
By combining proper planning, effective collaboration, and the use of top-notch materials like Avery Dennison vinyl, we ensured that every aspect of the preparation process was meticulously executed. These efforts laid the foundation for a seamless installation and a stunning final outcome.
The installation Process
Now, let's delve into the step-by-step breakdown of the installation process we followed for Vivid Electric's Mercedes Metris decals:
Cleaning and preparing the vehicle's surface: Before applying the decals, we ensured that the vehicle's surface was thoroughly cleaned and free from any dirt, dust, or debris. This step is crucial to create an optimal bonding surface for the decals, ensuring their longevity. We used high-quality cleaning agents and techniques to achieve a pristine surface.
Measuring and aligning the decals: Precision is key when it comes to installing decals. We carefully measured and planned the placement of each decal, ensuring they were aligned symmetrically and positioned to maximize visibility and impact. We utilized measuring tools and guidelines to achieve consistent spacing and positioning across the vehicle's surface.
Applying the decals using professional techniques: With the surface cleaned and the measurements in place, we proceeded to apply the decals. We utilized our expertise and experience in vinyl installation to ensure a seamless and professional finish. Using the appropriate tools and techniques, we carefully positioned and adhered to each decal, paying close attention to eliminate air bubbles and ensure a smooth application.
Challenges are not uncommon during the installation process, but our skilled team is well-prepared to overcome them with professionalism and expertise.
Techniques used to ensure smooth application: To achieve a smooth application, we employed various techniques such as using a squeegee to eliminate air bubbles and ensure proper adhesion. We also used heat to aid in the conformability of the vinyl, allowing it to adhere smoothly to the curved surfaces of the Mercedes Metris. These techniques helped us achieve a flawless finish.
Addressing difficulties encountered and their resolutions: While installing decals, we occasionally encounter challenges unique to each project. For instance, specific contours or intricate parts of the vehicle might require additional attention and expertise. In such cases, our experienced installers carefully assess the situation, adapt their techniques, and make necessary adjustments to ensure the decals adhere seamlessly and maintain their visual integrity.
Throughout the installation process, our team remained focused on delivering exceptional results. By combining our expertise, attention to detail, and problem-solving skills, we overcame any challenges encountered during the installation, resulting in a stunning final outcome for Vivid Electric's Mercedes Metris.
Stay with us as we move forward to showcase the captivating decals that beautifully represent Vivid Electric's brand identity on their vehicle.
The Final Result
See for yourself how the commercial decals turned out in the pictures below!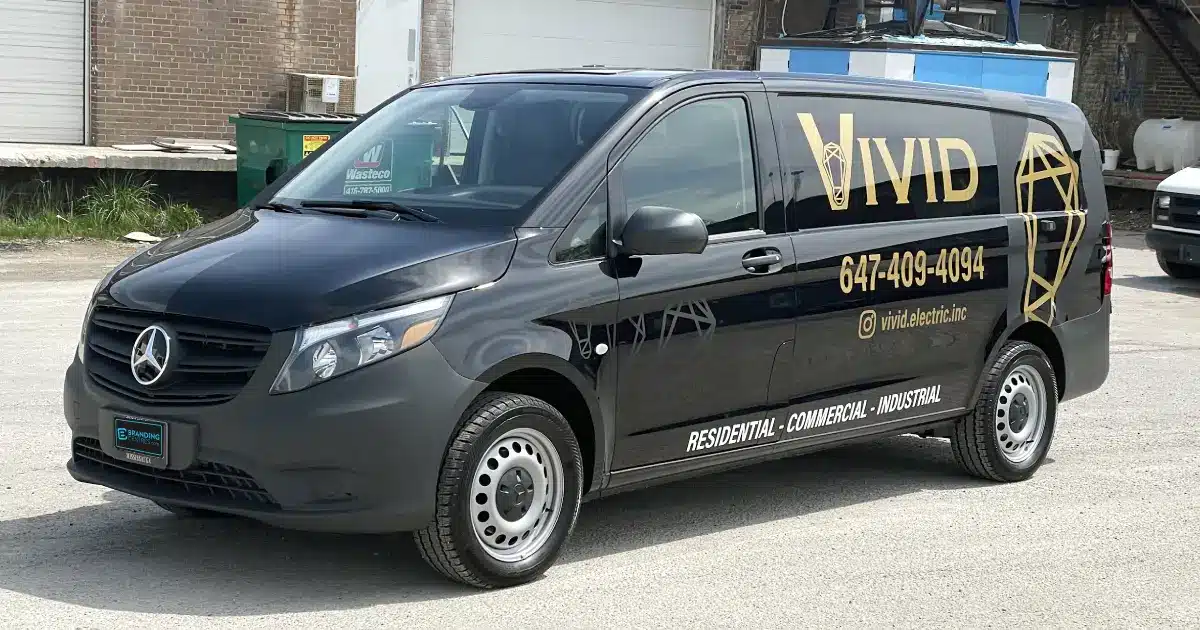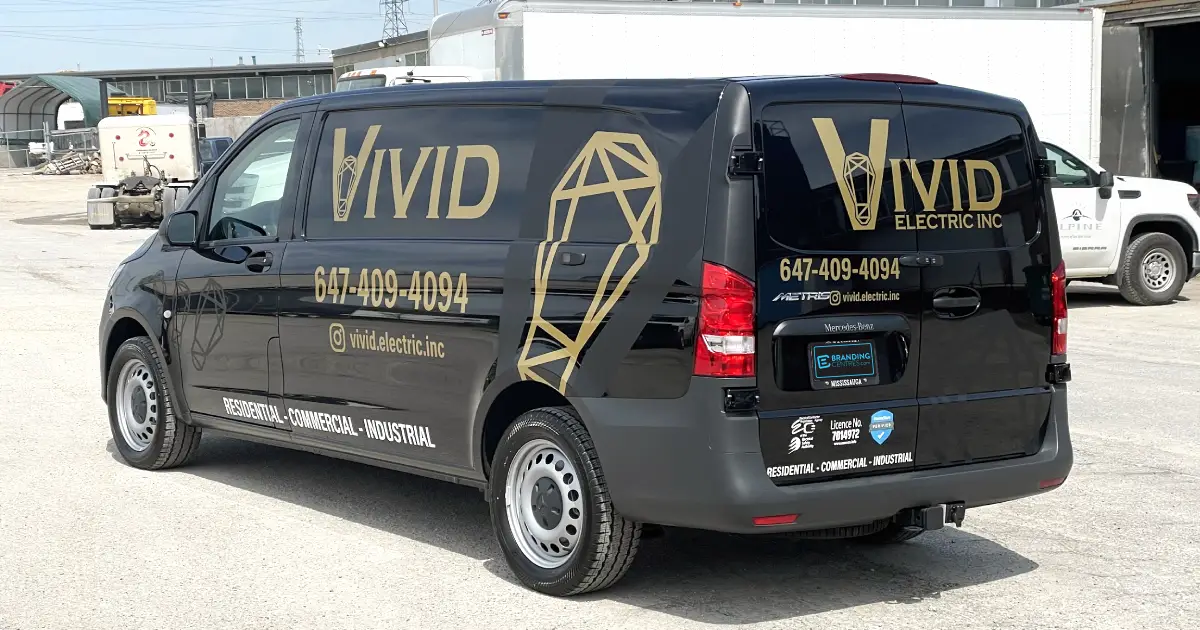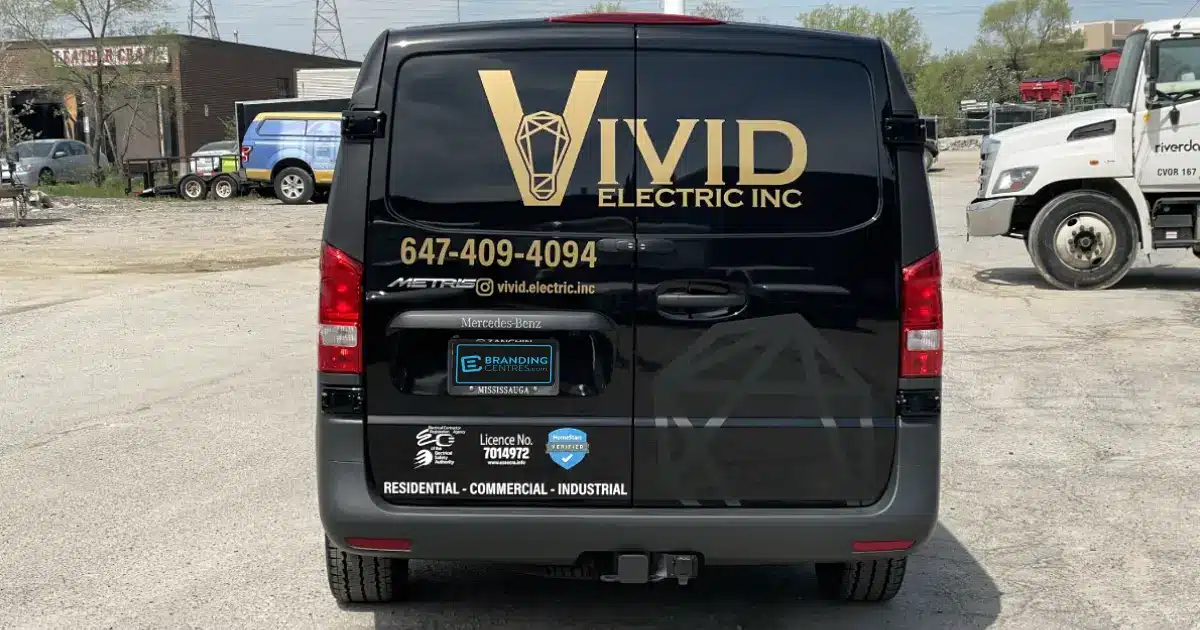 Conclusion
In conclusion, the installation of commercial decals on Vivid Electric's Mercedes Metris was a resounding success. We meticulously planned, prepared, and executed the project, resulting in stunning decals that beautifully represent their brand identity. The combination of Avery Dennison's Gold and Matte Black vinyl added an elegant touch and enhanced the overall visual appeal of the vehicle.
This project underscores the significance of professional branding and marketing services. By investing in high-quality materials, meticulous planning, and skilled installation techniques, we were able to elevate Vivid Electric's brand presence and effectively communicate their message to a wider audience. The attention to detail and expertise demonstrated throughout the process exemplify the positive impact that professional branding can have on a company's image and success.
If you're looking to enhance your brand identity or explore effective marketing strategies, we invite you to reach out to Branding Centres. Our team of experienced professionals is dedicated to providing tailored branding and marketing solutions that align with your unique goals and vision. Whether it's vehicle wraps, commercial decals, or custom-branded apparel, we have the expertise to help you make a lasting impression in your industry.
Contact Branding Centres:
Phone: (416) 288-8661
Email: info@BrandingCentres.com
Location: 24 Ronson Dr, Unit 1, Etobicoke, ON, M9W1B4
We encourage you to explore our comprehensive range of services, including vehicle wraps, custom-branded apparel, promotional products, and more. Visit our website or get in touch with us today to discuss how we can elevate your brand presence and drive your business forward.
Remember, at Branding Centres, we are passionate about helping businesses thrive through impactful branding and marketing strategies. Contact us now and let's embark on a journey to make your brand shine.